I received some Henry V. O'Neil books for my birthday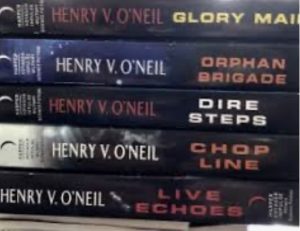 My birthday isn't until next week, but this year I received the 5 books in the Sim War Series as an early present.
My better half said "You'll like them! They're 'military Sci-Fi!'". Hmmmm.
I was hoping she was right, but you never really know until you open the cover, so I was prepared to be disappointed. Instead, to my surprise, I really liked the books. ? I read them all in about 6 days, but could have motored through them much faster if I'd wanted to be anti-social.
When I finished, she asked me what I thought of them & what they were like. So here's my answer:
Well…. they are a little like 'Dune' in the scheming & political machinations that are never far below the surface. Humanity is locked in a decades long war against an enemy that just might be cannon fodder for another, unknown alien race. No more plot disclosures from me! ?
The author, having a military background, throws in battle scenes that reminded me of the Vietnam War (the VC tactic to "Grab their belts to fight them!" came to mind in one section) and other conflicts.
There was only one thing that annoyed me – just a little, but still, I found it annoying… The books form part of a series of 5, but the author felt the need to rehash the previous book's plot points at the beginning of books 2 thru 5. It seems unnecessary to me. If the reader hasn't purchased the earlier books in the series, let them go and buy them! ?
Mr O'Neil writes well and easily keeps the reader's interest thru til the last book. On finishing the final book, I was sorry that I'd come to the end. I would gladly read a 6th or 7th book following the exploits of the "Orphans".