February saw family turmoil. Things are still in the wire but on Friday, I took a much needed break and drove to Bendigo Woollen Mills. I did go for a particular product but also for myself.
I had forgotten how inspirational it could be. I also realized how much I missed knitting and crochet. I butted in left and right when people asked questions. I think I got on some nerves but hey, if you know the answer why not share.
A lovely lady asked about knitting socks, she had started on the magic loop method. I understood exactly her frustration. I did butt in and told her the best advice I ever got from a sock knitting book. The book was Socks Soar on Two Circular Needles by Cat Bordhi.
The world so much needs such creative people and I mourned her passing in my own little way during Covid Lockdown. It was just after I gave up knitting and design due to a personal issue. I had always kept in mind her written words, "One needle works and the other rests". And so began my personal preference when using circular needles. Sleeves, then start when making top down neck lines etc.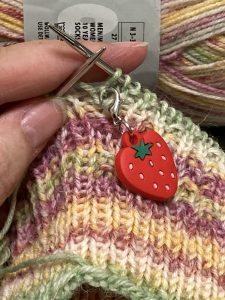 I was taught to knit socks by my mother who learnt to knit them in primary school in Europe. My first and most important tip is:
Cast on any project with two needles!
They do not need to be the same size but, it gives you a lovely stretchy start especially with socks top down!
Second tip:
Swatch! Yes, always frustrating but it is great to know if you have enough yarn and also if you knit tight or not, it gives you that extra chance to go up or down a needle size.
The third tip for today is:
Don't worry about errors, they make the sock perfect and individual! Any mistake you make can be fixed. If you dropped a stitch a few rows back. Don't frog! Put a locking stitch marker on it, knit to the spot, grab your trusty crochet hook and pick up the ladder or tie it off if you already added a stitch to compensate for the drop. It is not a big deal. Here I would also use a 'lifeline' if you are knitting with a lace cable and or a lace pattern.
Try and enjoy the process! Remember, you have another sock to finish. People would sometimes seek me out on the train with their knitting emergencies. This doesn't happen much these days but, if at all possible, I will overcome this carpal tunnel and jump back into serious knitting.
I will add photos and more hints in the coming weeks and months. Just email me for any more questions. [email protected]
Keep the craft going… you are doing a great job!