This past week I have been down, I guess dancing with the black dog. Such a good term. In my head it is calypso and I am doing my best to keep up the tempo. My new SNARK tuner and visual metronome should help.
I decided to dye my hair orange and mostly purple. And had a little jam session in the rain. I probably have blank spots in the back of my head but it should be fine. I mean, who in lockdown would see it!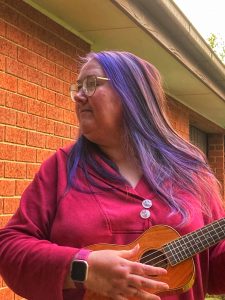 I can't thank Fi and his team at Melbourne Ukulele Community for keeping my down days in focus. I am learning more every day and the chord changes are getting smoother and quicker. And now, I am challenging myself with the barre chords and the tougher chords. It has never been easy with some chords with my mangled broken fingers but I am doing my best!
John has been keeping me well fed with some amazing dishes and creative meals. Some recipes do not quite hit the spot but it makes meals exciting ?
No textile crafts yet. Yes they really did a number on my emotions. I am working through that too.